Posts for: September, 2012
By Gary L Berman, DMD, PC
September 27, 2012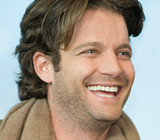 Prior to his first appearance on the Oprah Winfrey show, interior designer Nate Berkus knew immediately that he was not there to pick sofa colors and paint chips. Instead, he was there to lift people up through the way they live. And boy, did he do just that. Over the next eight years, Berkus completed 127 makeovers and became one of America's most beloved go-to guys for inspiration on the latest design trends.
During a recent interview with Dear Doctor magazine, Nate discussed his career as well as his oral healthcare. He credits his dazzling all-natural smile — no cosmetic dentistry here — to the treatments he received as a child from his dentist. "I'm grateful for having been given fluoride treatments and sealants as a child." He then added that, "healthy habits should start at a young age." Nate is still in the habit of brushing his teeth two or three times a day. As for flossing his teeth, he credits his dentist with the advice he still follows: "Floss the ones you want to keep."
Many parents and caregivers may not be aware of the important role fluoride treatments play in protecting children's teeth. Fluoride has the unique ability to strengthen tooth enamel, the hardest substance found in nature. Depending on where you live, you may have fluoridated tap water. You may also have fluoride in your toothpaste, depending on the brand you use. Both of these are beneficial, but sometimes we recommend additional fluoride treatments based on the specific needs of your children. Why? The concentrations of the topical fluorides we typically apply are much higher than what is found in toothpastes, and we apply them for a longer period of time. For example, we often apply them for four minutes per treatment session.
To learn more about fluoride treatments, contact us today to schedule an appointment so that we can conduct a thorough examination, discuss any questions you have as well as what treatment options will be best for you or your child. Or to learn more about fluoride treatments now, you can continue reading the Dear Doctor magazine article "Topical Fluoride." And to read the entire interview with Nate Berkus, please see the Dear Doctor magazine article "Nate Berkus."
By Gary L Berman, DMD, PC
September 13, 2012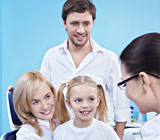 We in dentistry, advise parents to have an orthodontic evaluation some time before your child is 7 years of age. At this time, some of your child's adult teeth have come in and some primary (baby) teeth remain. This is a good time to check for developing problems. Treatment that begins while your child's teeth are coming in is called "interceptive orthodontics." It provides an opportunity to achieve the best results in orthodontic treatment.
Once this evaluation takes place, it may mean that orthodontic treatment may need to take place in two-stages. A first phase of orthodontic treatment may prevent, intercept or minimize future orthodontic treatment. The first stage may be a process of guiding the growth of the jawbones that support the teeth. This is called "growth modification." Then when the adult teeth have erupted through the gums, it may be time to do the second and final stage.
If a second phase of treatment is necessary it will probably require braces. These are small metal brackets that are bonded to the teeth. Thin flexible wires are threaded through them, and the wires are designed to push or pull on the teeth to provide a small amount of pressure that makes the teeth slowly reposition themselves within the jawbone. A light and controlled force pulling on a tooth causes new bone and ligament (the fibers that hold teeth in place) to be formed. These are living tissues that are constantly changing and remodeling themselves.
If you wait until your child's permanent (adult) teeth have all come in to start this process, it will be too late to correct some types of orthodontic problems, such as some types of malocclusions ("mal" – bad, "occlusion" – bite). It's better to work together with your child's stages of growth and development in order to have an optimum correction, both in looks and function.
You may be wondering whether a two-stage treatment costs twice as much. In fact, it is likely to be less expensive than a late one-stage treatment would be. Sometimes, the first stage may correct an underlying problem and make further treatment unnecessary. If a second phase is needed, it is likely to be easier and less costly.
Contact us today to schedule an appointment to discuss your questions about orthodontia for your child. You can also learn more by reading the Dear Doctor magazine article "Preventative & Cost Saving Orthodontics."