Posts for: August, 2013
By Gary L Berman, DMD, PC
August 21, 2013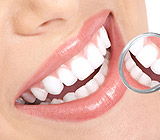 The "Hollywood Smile" — dazzlingly white — is associated in our society with youth, health and vitality. Achieving that smile through either professional or home whitening applications has become very popular.
Teeth become discolored or dull for a number of reasons. It can be something intrinsic with the teeth — changes in enamel or dental structure during development, inherited disorders, heavy exposure to fluoride or tetracycline, or changes in mineral structure or wear due to aging. It can also be extrinsic, resulting from environmental or lifestyle causes. Eating foods with tannins (red wine, coffee or tea) or carotene pigments found in plant foods like oranges or carrots, or using tobacco may all cause staining.
Most modern applications involve an oxidizing chemical (usually hydrogen peroxide) that bleaches the teeth. Professional applications in a dentist's office use high concentrations of hydrogen peroxide (usually 35 to 45%) applied directly to the teeth with control measures to protect the lips and gums. This type of application can lighten the color of teeth up to ten shades.
There are a number of home options too: whitening strips, "Paint on" or "Brush on" whitening, and even whitening gum. We can also provide you with a "Take home" kit that resembles the professional application but is generally less expensive. Although all these home applications are generally safe and effective, they typically take longer for results (several repeated days as opposed to about one hour for an office application), and not always to the same level of lightness as the professional.
Just about anyone can be a candidate for a whitening application. However, if you have thinner than normal dentin and more porous enamel, or suffer from gum recession or enamel loss, then whitening may increase tooth sensitivity. And, whitening is not a permanent solution: the brightness will fade over time, usually within a year. You can slow the fading by avoiding foods and habits that contribute to staining. It's also possible to touch up the initial whitening once or twice a year to extend the life of your new, bright smile.
If you would like more information on teeth whitening, please contact us or schedule an appointment for a consultation. You can also learn more about this topic by reading the Dear Doctor magazine article "Teeth Whitening."
By Gary L Berman, DMD, PC
August 06, 2013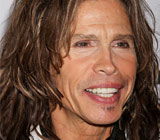 Rock star Steven Tyler fell and broke his two front teeth while on tour with his band Aerosmith not long ago. But Tyler was back on stage the very next day, thanks to modern dental implant technology.
Dental implants are the most optimal tooth replacement system in use today. The reason we say "system" is because replacing teeth with implants involves two, or sometimes three, components: the implant itself, which replaces the root-part of the tooth; the dental crown that sits on top of it to replace the part of the tooth that's visible in the mouth; and a connecting piece placed in between the implant and crown, known as an abutment.
The implant itself, made of titanium, is placed directly into the jawbone with a minor surgical procedure. Titanium has the unique ability to fuse to bone, creating a very strong connection. An implant provides virtually the same function as a natural tooth root, including stabilizing the bone underneath and preventing its loss — something that naturally occurs when a tooth is lost.
This fusion process takes a period of weeks, which is why the implant needs time to heal before a permanent crown is attached. One reason for early implant failure is "loading" them with biting forces too soon. But in experienced hands, implants are extremely successful. Documented research and clinical studies indicate success rates of over 95% — which is higher than any other tooth replacement option. Once integrated and functional, implants can last a lifetime. That's why, though they are a bit more expensive initially than other tooth-replacement options, they are more cost-effective in the long term.
Of course, another advantage of implants is that they look and feel completely natural. Just ask Steven Tyler!
If you would like more information about dental implants, please contact us or schedule an appointment for a consultation. You can also learn more by reading the Dear Doctor magazine article "Dental Implants." Dear Doctor also has more on "The Hidden Consequences of Losing Teeth."