Posts for: June, 2014
By Gary L Berman, DMD, PC
June 17, 2014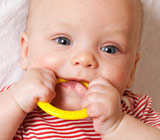 When your baby's first teeth erupt in the mouth, it's a big step in their development. Unfortunately, you may not have much opportunity to celebrate — you're too busy tending to your infant whose experience is anything but pleasant.
Commonly known as teething, the eruption process usually begins between six and nine months of age, although some children may begin as early as three months or as late as twelve. Not all teeth come in at the same time: it usually begins with the two lower front teeth, then the two upper front teeth, followed by the molars and then the canines (eye teeth). By age three, most children have all twenty of their primary teeth.
Each child's teething experience is different and may vary in length of time and intensity. The usual signs are heightened irritability, biting and gnawing accompanied by gum swelling, ear rubbing, drooling and sometimes facial rashes. Babies also may have disturbed sleeping patterns and a decreased appetite. Occasionally, this discomfort can be intense.
There are some things you can do to ease this discomfort. Provide your baby a clean, chilled (not frozen) rubber teething ring, chilled pacifier or wet washcloth to gnaw on. Cold foods, like popsicles for older children can also be soothing, though you should limit sugary foods to lower the risk of tooth decay. You can also finger massage swollen gums to counteract the pressure coming from the erupting tooth, or administer pain relievers like baby acetaminophen or ibuprofen. You can use products with Benzocaine®, a numbing agent, for children two years or older — but you should never use alcohol for children of any age for inflamed gums.
Be sure to also set up a Year One dental examination around their first birthday. This is an important first step in your child's long-term dental care, and a good opportunity to check their teething progress. And, by all means, if you have concerns about your child's experience with teething, don't hesitate to call our office.
Teething is a normal part of your child's development. There's much you can do to help make it as comfortable and pain-free as possible.
If you would like more information on teething, please contact us or schedule an appointment for a consultation. You can also learn more about this topic by reading the Dear Doctor magazine article "Teething Troubles."
By Gary L Berman, DMD, PC
June 02, 2014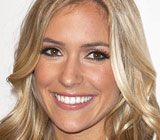 While she was pregnant with her son Camden Jack Cutler, 25-year-old Kristin Cavallari noticed an odd occurrence in her bathroom sink: "Every time I floss, my sink looks like I murdered somebody!" the actress and reality-TV personality exclaimed. Should we be concerned that something wicked is going on with the star of Laguna Beach and The Hills?
Before you call in the authorities, ask a periodontist: He or she will tell you that there's actually no mystery here. What Cavallari noticed is, in fact, a fairly common symptom of "pregnancy gingivitis," a condition that affects many expectant moms in the second to eighth month of pregnancy. But why does it occur at this time?
First — just the facts: You may already know that gingivitis is the medical name for an early stage of gum disease. Its symptoms may include bad breath, bleeding gums, and soreness, redness, or tenderness of the gum tissue. Fundamentally, gum disease is caused by the buildup of harmful bacteria, or plaque, on the teeth at the gum line — but it's important to remember that, while hundreds of types of bacteria live in the mouth, only a few are harmful. A change in the environment inside the mouth — like inadequate oral hygiene, to use one example — can cause the harmful types to flourish.
But in this case, the culprit isn't necessarily poor hygiene — instead, blame it on the natural hormonal changes that take place in expectant moms. As levels of some female hormones (estrogen and/or progesterone) rise during pregnancy, changes occur in the blood vessels in the gums, which cause them to be more susceptible to the effects of bacterial toxins. The bacteria produce toxic chemicals, which in turn bring on the symptoms of gingivitis — including painful and inflamed gums that may bleed heavily when flossed.
Is pregnancy gingivits a cause for concern? Perhaps — but the condition is generally quite treatable. If you've noticed symptoms like Kristen's, the first thing you should do it consult our office. We can advise you on a variety of treatments designed to relieve the inflammation in your gums and prevent the harmful bacteria from proliferating. Of course, your oral health (and your overall health) are prime concerns during pregnancy — so don't hesitate to seek medical help if it's needed!
How did things work out with Kristen? She maintained an effective oral hygiene routine, delivered a healthy baby — and recently appeared on the cover of Dear Doctor magazine, as the winner of the "Best Celebrity Smile" contest for 2012. And looking at her smile, it's no mystery why she won.
If you would like more information about pregnancy gingivitis, please contact us or schedule an appointment for a consultation. You can also learn more by reading the Dear Doctor magazine articles "Expectant Mothers" and "Kristen Cavallari."