Posts for: December, 2017
By Gary L Berman, DMD, PC
December 19, 2017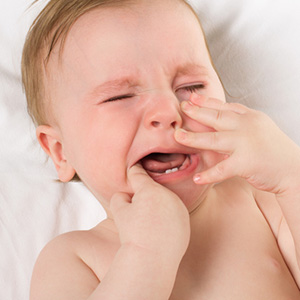 Teething is a normal part of your baby's dental development. That doesn't make it less stressful, though, for you or your baby.
This natural process occurs as your child's primary teeth sequentially erupt through the gums over a period of two or three years. The first are usually the two lower front teeth followed by the two upper front ones, beginning (give or take a couple of months) between six and nine months. By the age of three, most children have all twenty of their primary teeth.
The disruption to the gum tissues can cause a number of unpleasant side effects including gum swelling, facial rash, drooling, disrupted sleep patterns and decreased appetite. As a result a child can become irritable, bite and gnaw to relieve gum discomfort or rub their ears. Every child's experience is different as well as their degree of pain and discomfort.
As a tooth is about to erupt, you may notice symptoms increasing a few days before and after. The symptoms will then subside until the next tooth begins to erupt. In a way, teething is much like a storm—you mostly have to ride it out. However, that doesn't mean you can't lessen your child's discomfort during the teething episode.
For one thing, cold, soft items like teething rings, pacifiers or even a clean, wet washcloth your child can gnaw on will help relieve gum pressure. Chilling the item can have a pain-numbing effect—but avoid freezing temperatures, which can burn the tissues. You can also massage the gums with a clean finger to relieve pain. But don't rub alcohol on their gums and only use numbing agents (like Benzocaine) for children older than two, and only with the advice and supervision of your healthcare provider. The use of acetaminophen or ibuprofen might also be used under the advice of your doctor.
If you notice your child has diarrhea, extensive rashes or fever, contact your physician immediately—these aren't normal teething symptoms and may indicate something more serious. And be sure to consult with us if you have any other questions or concerns.
Teething can be a difficult time for your baby and family. But with these tips and a little "TLC" you can keep their discomfort to a minimum.
If you would like more information on caring for your baby's developing teeth, please contact us or schedule an appointment for a consultation. You can also learn more about this topic by reading the Dear Doctor magazine article "Teething Troubles: How to Help Your Baby be Comfortable."
By Gary L Berman, DMD, PC
December 04, 2017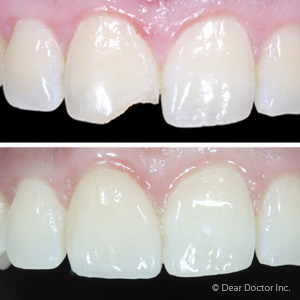 You've suddenly noticed one of your teeth looks and feels uneven, and it may even appear chipped. To make matters worse it's right in front in the "smile zone" — when you smile, everyone else will notice it too. You want to have it repaired.
So, what will it be — a porcelain veneer or crown? Maybe neither: after examining it, your dentist may recommend another option you might even be able to undergo that very day — and walk out with a restored tooth.
This technique uses dental materials called composite resins.  These are blends of materials that can mimic the color and texture of tooth structure while also possessing the necessary strength to endure forces generated by biting and chewing. A good part of that strength comes from the way we're able to bond the material to both the tooth's outer enamel and underlying dentin, which together make up the main body of tooth structure. In skilled, artistic hands composite resins can be used effectively in a number of situations to restore a tooth to normal appearance.
While veneers or crowns also produce excellent results in this regard, they require a fair amount of tooth alteration to accommodate them. Your dentist will also need an outside dental laboratory to fabricate them, a procedure that could take several weeks. In contrast, a composite resin restoration usually requires much less tooth preparation and can be performed in the dental office in just one visit.
Composite resins won't work in every situation — the better approach could in fact be a veneer or crown. But for slight chips or other minor defects, composite resin could transform your tooth's appearance dramatically.
To see if composite resin is a viable restoration option for your tooth, visit your dentist for a complete dental examination. It's quite possible you'll leave with a more attractive tooth and a more confident smile.
If you would like more information on restorations using composite resins, please contact us or schedule an appointment for a consultation. You can also learn more about this topic by reading the Dear Doctor magazine article "Artistic Repair of Front Teeth with Composite Resin."