Posts for tag: dentures
By Gary L Berman, DMD, PC
May 22, 2017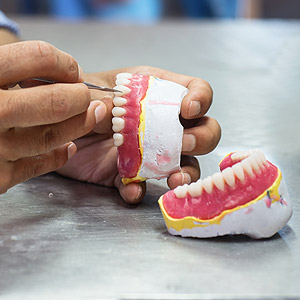 For centuries, people who've lost all their teeth have worn dentures. Although materials in today's dentures are more durable and attractive than those in past generations, the basic design remains the same — prosthetic (false) teeth set in a plastic or resin base made to resemble gum tissue.
If you're thinking of obtaining dentures, don't let their simplicity deceive you:Â a successful outcome depends on a high degree of planning and attention to detail customized to your mouth.
Our first step is to determine the best positioning for the prosthetic teeth. It's not an "eyeball" guess — we make a number of calculations based on the shape and size of your jaws and facial features to determine the best settings within the resin base. These calculations help us answer a few important questions for determining design: how large should the teeth be? How far forward or back from the lip? How much space between the upper and lower teeth when the jaws are at rest?
We also can't forget about the artificial gums created by the base. How much your gums show when you smile depends a lot on how much your upper lip rises. We must adjust the base size to accommodate your upper lip rise so that the most attractive amount of gum shows when you smile. We also want to match as close as possible the color and texture of your natural gum tissues.
There's one other important aspect to manage: how your upper and lower dentures function together when you eat or speak. This means we must also factor your bite into the overall denture design. This may even continue after your dentures arrive: we may still need to adjust them while in your mouth to improve function and comfort.
Ill-fitting, dysfunctional and unattractive dentures can be distressing and embarrassing. But with careful planning and customization, we can help ensure your new dentures are attractive and comfortable to wear now and for years to come.
If you would like more information on removable dentures for teeth replacement, please contact us or schedule an appointment for a consultation. You can also learn more about this topic by reading the Dear Doctor magazine article "Removable Full Dentures."
By Gary L Berman, DMD, PC
December 11, 2015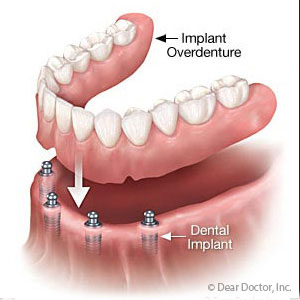 Although dental disease prevention has made great strides over the last century, tooth decay and periodontal (gum) disease continue to pose a major health threat. People who've lost all of their teeth (edentulism) or most of them suffer the most with adverse effects on their overall health, function and appearance.
Removable dentures have been the traditional and most affordable means to treat edentulism. But even with material and construction advances in recent years, dentures can still lose their fit over time as the bone in the jaw shrinks. This happens because the bone no longer has the stimulus of natural teeth and older cells can't be replenished at a healthy rate; the continuing compression of traditional dentures on the jaw's bony ridges compounds the problem.
As the bone shrinks the dentures become loose and uncomfortable to wear. Among other results, this poor fit can drastically affect how you eat: studies of denture wearers have found a decrease in their diet's nutritional value because they're eating fewer vegetables or fibrous, "chewy" foods and more foods with refined carbohydrates and fats that are easier to eat but less nutritious.
There is an alternative, though, that might slow bone loss and provide a better long-term fit: an overdenture supported by dental implants. With this appliance, a few implants are strategically installed in the upper or lower jaw. Matched attachments securely fasten the denture to the implants. In this case, the implants not the jaw ridge and gums support the denture thereby preserving the bone.
If you're healthy enough to undergo a tooth extraction, you should be able to handle implant surgery, a minor procedure usually performed with local anesthesia and with little to no discomfort afterward. It may even be possible to retrofit your current denture to work with the implants, but that will need to be determined during the planning stages.
Although more expensive than a traditional denture, overdentures are much more affordable than fixed restorations stabilized with implants. The difference, though, is the increase in your quality of life — for better nutrition, physical health and social confidence.
If you would like more information on treatment for teeth loss, please contact us or schedule an appointment for a consultation. You can also learn more about this topic by reading the Dear Doctor magazine article "Implant Overdentures for the Lower Jaw."
By Gary L Berman, DMD, PC
June 25, 2012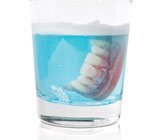 Cleaning dentures is an important part of wearing them. However, did you know that recent research has revealed a link between denture hygiene and overall health? The evidence shows that oral bacteria have been implicated in chronic obstructive pulmonary (lung) disease, bacterial endocarditis ("endo" – inside; "card" – heart), generalized infections of the respiratory tract and other systemic diseases. While it is never our intent to frighten you, we feel it is important that we share some important tips on maintaining and caring for your dentures so that your oral health does not negatively impact your general health.
Our first tip focuses on fit, as denture slippage is an experience that anyone who wears dentures dreads. So if your dentures seem to slip or you have started increasing the amount of adhesive you are using to achieve the same level of denture retention that you had when first fitted, you need to make an appointment with us soon. Otherwise, an ill-fitting denture can cause discomfort, embarrassment and contribute to other oral health issues.
Next, we must focus on cleaning your dentures. It is critical that you clean your dentures daily. However, you should never use harmful or abrasive cleansers. Nor should you ever place your dentures into boiling water! The best method for cleaning is to soak them daily in a non-abrasive denture cleaner. And when you remove them, gently brush them with a soft-bristled toothbrush.
Our last tip concerns how long you wear your dentures each day. Even if your dentures are extremely comfortable — for example, you forget they are in — you should not wear them 24 hours a day. Why? Because you will develop a chronic yeast infection called, "denture stomatitis" due to stagnation that develops under dentures when the lubricating and antibacterial effects of saliva are impeded. Unfortunately, the constant pressure on the gum tissues caused by wearing dentures can accelerate jawbone loss over time. Give your mouth and tissues a rest by sleeping without your dentures in your mouth.
To learn more tips, continue reading the Dear Doctor magazine article "Top Ten Tips For Denture Care & Maintenance." Or you can contact us today to schedule an appointment to discuss your questions.