Posts for tag: toothache
By Gary L Berman, DMD, PC
July 17, 2014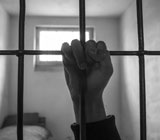 When a 51-year-old Swedish man developed a throbbing toothache with facial swelling, he knew he needed to get to the dentist right away. There was only one problem: The unnamed individual was inside the Östragård minimum-security prison, serving a short sentence. But he didn't let that stop him from getting dental treatment — he simply broke out of jail and headed straight for the nearest dental office.
"In the end, I just couldn't stand it," he explained to the Swedish newspaper Dagens Nyheter.
After the offending tooth was extracted, the offender himself went to the local police precinct and turned himself in. Taking his circumstances into account, the court added just 24 hours to his original sentence, and he was released soon thereafter. "Now I only have to pay the dentist bill," he noted.
While we certainly don't encourage jailbreaks, we might feel that this fellow made the right choice. It's important to know when you need to get dental treatment right away, and when you can wait. Here are some very basic guidelines:
If you're suffering a traumatic dental injury that is causing you severe pain, or you can't control bleeding after applying pressure for a few minutes, go to the nearest emergency room right away (as you would for any serious injury).
If your tooth is knocked out or loosened, it should be treated in the dental office or emergency room within 6 hours. Place it back in its socket (in the correct orientation), if possible; if not, tuck it between the cheek and gum, or put it in a glass of cold milk. Hold the loose tooth gently in place. It's often possible to successfully re-implant a tooth that has received quick first aid.
If a tooth is chipped or cracked less severely, try and save any missing pieces, and make an appointment to come in as soon as you can. Don't forget to bring the pieces with you!
If you have acute or persistent tooth pain, come in to our office right away. There are many things that can cause tooth pain, including tooth decay (a bacterial infection), a loose filling, or tooth sensitivity. Minor sensitivity or occasional aches when chewing can be temporarily eased by rinsing with warm salt water and taking an over-the-counter pain reliever; more severe pain may indicate that you need root canal treatment to preserve a tooth in which the pulp has become seriously infected.
Pain is the body's way of telling you that something's wrong. When you experience mouth pain, it's best for you to see us as soon as possible. Quick treatment just might save your tooth — and perhaps save you from a far steeper bill for tooth replacement. If you would like more information about dental emergencies, call our office for a consultation. You can learn more in the Dear Doctor magazine article "Tooth Pain? Don't Wait!"
By Gary L Berman, DMD, PC
June 14, 2013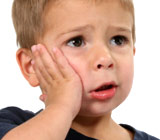 When it comes to childhood injuries — cuts and scrapes, growing pains, even wounded pride — it's often a parent's job to try and make things better. But sometimes it's hard to know whether the hurt indicates a serious problem, or if it's a situation that will resolve itself as soon as the sun comes up. If pain is being caused by a toothache, here are some general rules that can help you figure out what's the best thing to do.
1. Unless it's accompanied by fever and swelling, a child's toothache isn't generally an emergency.
The first thing to do is calm down (both you and the child) — and talk! Find out exactly where the pain comes from, and when and why it might have started. (Your child may have forgotten to tell you about that fall in the gym...) Sometimes, a little sleuthing will give you a clue about what's causing the pain.
2. Tooth decay, a bacteria-induced infection, is the most common cause of toothaches.
Check the teeth for brown spots or tiny holes (cavities) which might indicate decay — especially on the biting surfaces and in the areas between teeth. Next, look at the gums around the hurt tooth. If they show cuts or bruises, that's a sign of trauma. If you see only swelling, it may indicate the formation of an abscess.
3. If nothing looks obviously wrong, try gently flossing both sides of the tooth.
This may dislodge a bit of trapped food or candy, and relieve the pressure and soreness. But if that doesn't help, remember that some conditions — like nerve damage inside the tooth, for example — may have no apparent symptoms except pain.
4. Treat pain with an appropriate dose of acetaminophen or ibuprofen.
Base the dose on your child's age and weight, according to the medication's instructions. You can also apply an ice pack (one minute on, one minute off) to the outside of the jaw. But NEVER rub aspirin (or any painkiller) directly on a child's gums: It can cause burns and severe discomfort.
5. Pain that keeps a child awake at night, or persists into the next day, needs professional evaluation as soon as possible.
Otherwise, unless the pain resolves quickly and you're sure you know exactly what caused the toothache, it's best to bring your child in for an examination as soon as it's practical. You'll feel better having a dental professional, backed with years of experience and training, taking care of your child's health — and you just might prevent a future problem.
If you have questions about toothaches in children, please contact us or schedule an appointment for a consultation. You can learn more in the Dear Doctor magazine article "A Child's Toothache."